Match-3 is one of the most successful core mechanics in the mobile space and in general in the gaming scene. When we look at its history, simple variations and innovations permitted the creation of highly profitable services and the startup of entire businesses. In this article I will make an analysis of the very core of the genre: the match-3 mechanic.
The first thing I notice when looking at the match-3 mechanic is that the set of rules represented are both to define obstacles and goals. It is a simple but very beneficial mechanic, in terms of the economy of the gameplay. In fact, the simple action that activates the match needs a previous cognitive effort to spot at least a possible combination. That presents a challenge to the players
Flow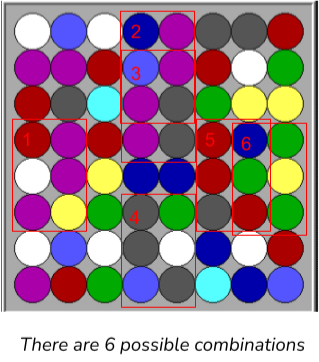 Step 1 – Problem
Observation/Analysis: recognize at least one possible combination of 3+ colors in line
Challenge: Cognitive effort 
Design Tip: board and art style directly influence the difficulty of this problem to solve
Step 2 – Make a choice
Choose the first you spot VS look better VS deep thinking
Difficulty: time may add challenge to this part
Design Tip: implementing a hint system changes this meaning directly. Some Players may passively accept any hint. Consider:Kind of hint to give (if any)Choose the right timing for showing the hint OR let the Players access to them whenever they want
Step 3- Goal
Match: Swipe two adjacent tokens
Challenge: Interaction, cognitive effort
Design Tip: during your playtests, be aware of the dimension and sensibility of tokensSpeed of interchangePlayers do not like to make a move and see another.Also, if the move is invalid the common thing is to not remove a movement from the total amount, if the game challenge is based on movements. [Maybe it's possible to let the time be retrieved somehow, to remove this possible friction.]
Step 4 – Result
Cascade: See your choice rewarded
Challenge: Surprise, combo, doubt
Design Tip: here the speed and the bounce of tokens falling reinforce the sense of reactivity that the Player has. According to the target audience of the specific game (and its theme), this has to be tweaked. There is a black box: Players don't know which token will be spawned and they will feel curiosity about the next state of the level board. Be aware of this.
Step 5 – New Board Configuration
New Board: The gameplay may wait for a stable condition before giving the control back to the Player.
Challenge: Restart from Step 1
Design Tip: the faster, the better. Avoid too much particles and effects left on the board at  this step.