According to the Cambridge Dictionary the renovation is the act or process of repairing and improving something, especially a building so that it is in good condition again.
Industry experts don't stop talking about the trend of renovation mechanics in casual games. Why do they work? According to this brand new video, because they are a driver for Player progression.
Game design disciplines
Renovation mechanic is so popular across teams because gives work to all the design team:
Narrative design plays a critical role in delivering a memorable story
Level designers can use the environment to convey the story (environmental storytelling)
UX Designers are key to deliver a smooth experience, making the switch between puzzle match and renovation as smooth as possible
Systems Designers help find the right economy to support all the actions according to the Players' session daily number and duration.
Acting for the renovation
In casual games, the act of renovation consists of:
choosing a task to complete
use one or more stars to perform it
introductory dialogue
select a style for the furniture
renovation cutscene
story dialogue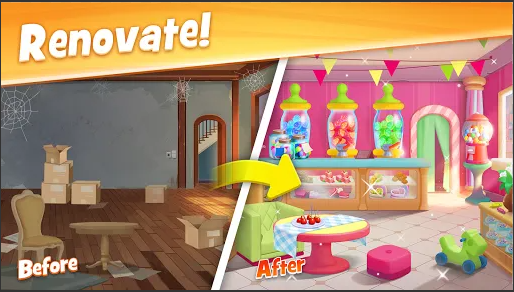 The story is usually delivered as a consequence of the act of renovation.
Repairing and Improving
Have you ever asked yourself WHY is this mechanic so popular among casual games? To me it is because those games are about putting things in order.
In match-3 games you put things in order, in line
In popper games you clean the patterns that you spot
In merge games you make space on the board
All those games have extra goals that consist often of an obstacle. The frustration of not beating a level for that obstacle is a driver for monetization but also of churning out, as this brilliant LinkedIn post by Yasin Hatiboğlu.
All those levers fit perfectly with repairing and improving, with the metaphor of renovation.
Building
Last but not least, in service games for mobile phones there is something very present in Players' minds. You have a world waiting for you that you are helping build somehow. You don't just have a game to complete, those games are infinite.
The fantasy of free-to-play games, the aspirational aspect of those, almost always contains this: it's your help and your choice that help build the World you have in your pocket.