This week just for the sake of ikigai I am prototyping a new narrative system for Lily's Garden. Today I focused my efforts to the idea generation. I wrote down hundreds of ideas and preselected just some of them, which will be shown here.
The narrative of Lily's Garden
The story is divided into large day arcs with subplots. Each day involves renovating a specific location. In order to do that, the Player has to beat puzzle levels earning Stars. Stars are useful to start tasks.
In the course of the game's renovations, Lily collects items like keys and photographs, builds her relationships with other characters, and discovers more about the estate and her family history.
We will use those terms in this post:
Day: set of specific tasks that complete a story arc. We can consider a day like a sequence of an episode in TV series.
Positive action: use power-up/boosters, lives refill, use extra movement, complete a goal also if not beating the level, and so on.
Perks: boosters, power-ups, infinite lives, stars, ingots.
Reviews analysis
In order to better select the ideas, I've spent 1 hour reading reviews. Data.ai allows you to filter favorable and critical reviews.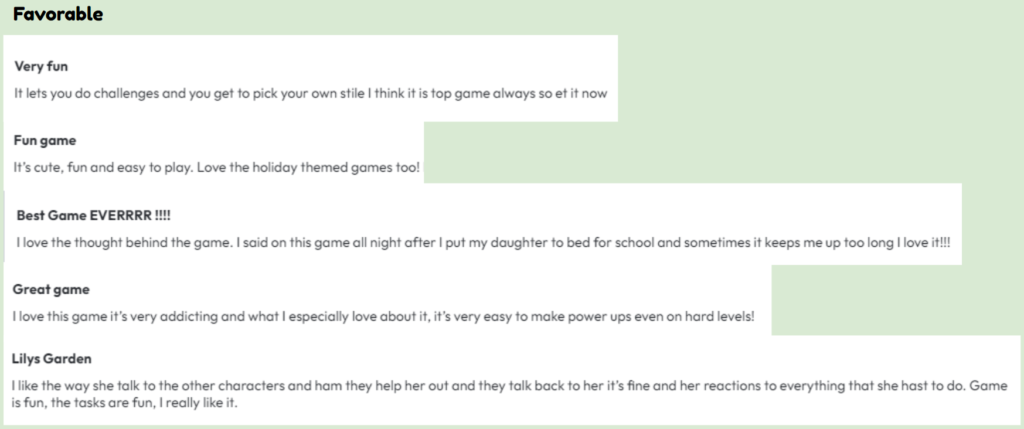 The game let's you decide the style of your house and decorations. It is fun and easy to play. The perfect experience for when you just want to relax. Engaging and full of power-ups to beat hard levels that you can create on the board or get by using ingots and completing tasks. The main character Lily reacts to everything and completes tasks.
The new system should be built on those strengths. Maybe it is better to have something more specific towards power-ups and tasks completion.

Many levels are hard to beat and some Player feels stuck. The day's storylines have not always the same quality, probably because of different kind of writers involved in the project. Players lose what they got at the end of some event. Some Player may feel that the game is too greedy in monetizing the puzzle part (extra movements and boosters).
Our system should be able to mitigate the puzzle limitations. The Player should not feel stuck and if they are doing all the efforts to beat a specific level, that should be rewarded somehow.
References
I took some notes on things used in other games with a narrative component. I didn't looked at top competitors, I just took notes on type of games that I already worked on in the past. This because one of the requirements of this task is agility.
Episode: Choose your Story: Premium choices for premium paths. Great for re-playability, usually something that is not considered in puzzle-renovation games because the days cannot be replayed.
It is interesting to be able to unlock an extra path during a Day, also if some Player may want to get to other outcomes. Branches should always connect again before of the end, to avoid this effect.
Tales: Choose your own Story: Trials and paths according to stats accumulated during the Story like in a roleplaying game. It would be great to connect the puzzle and the story somehow. Maybe associating each character to every level and let them accumulate statistics according to the power-up used and more in general to the positive actions done.
From the other side, this can complicate too much the system and it may become hard to balance and monitor the Player's progression on the long term.
Fallout Shelter: There are characters to whom the Player can assign specific tasks to get more points and currency. What if during a specific day you can put your characters performing extra tasks to get extra perks?
This adds an idle/farming layer which may be not suitable to the core audience of this kind of games.
Project Makeover: Customize the aesthetics of avatars in order to make them successful for the end of the episode (day). Maybe the characters of a specific day set can strive to arrive perfect to the end of the arc, in order to the ending be more satisfying.
The risk is to fall in the trap of misogynic and racist narratives, thou. While makeover is great, it should be carefully designed to not offend anyone. Especially when something works out and translates to UA creatives it enters in a dangerous territory. Is that what we want as designers? I don't think so.
Survivor.io: Complete missions and get an extra currency, useful to be exchanged with other resources during a season. It's a pretty common practice among casual games and gives lots of agency to the Players.
The problem comes when the event end because Players may accumulate a resource and then they lose it or it's automatically converted in something not valuable to them.
Selected ideas
I wrote down hundreds of ideas and, since I am doing this alone, preselected some of them. The format I use is: title, wireframe and short description. It is the best way of taking them the day after and decide what to do.
Remember the problem statement decided in the previous article.
How can we engage more the Players more interested in the story, rewarding every effort they make to reach better outcomes during the puzzle part?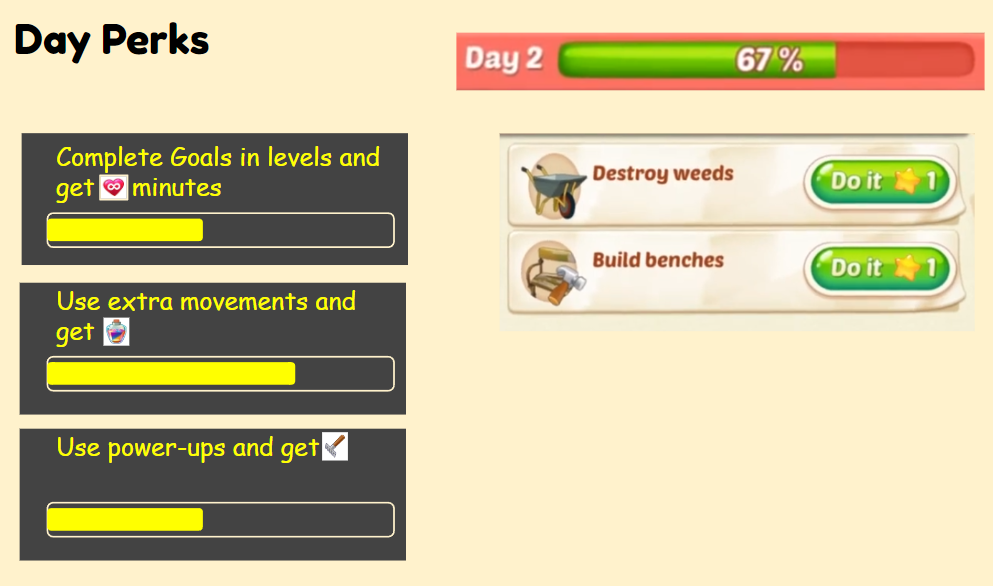 Accumulate perks during a day and collect them based on the positive actions done at the end of the day. Each day has a limited numbers of perks that can be achieved and unlocked at the end.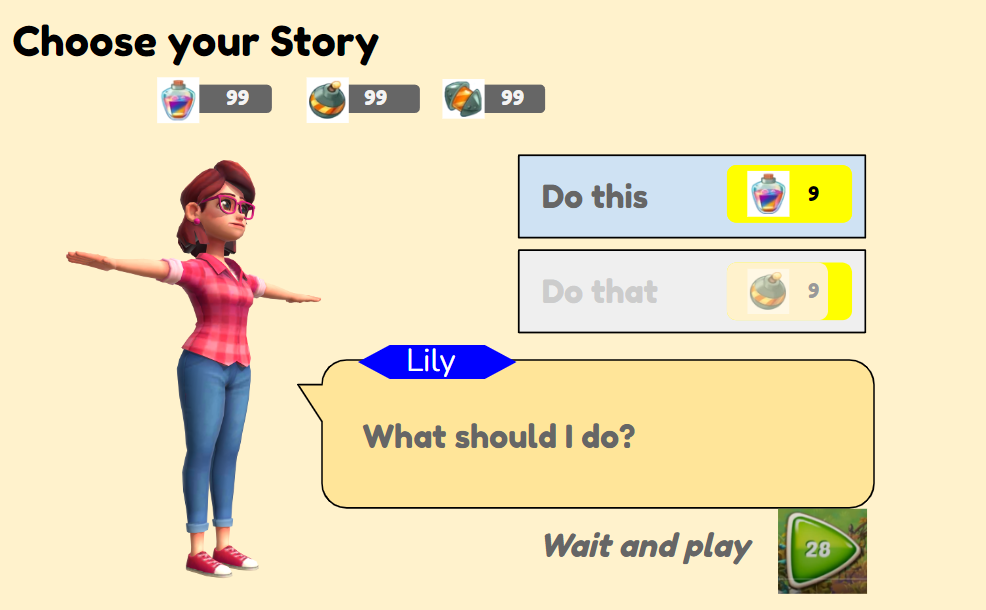 Everytime you create and use a power-up (selecting it in level intro or creating it during the match), you accumulate points useful to take specific paths. If you want to take a specific path, then, you should create use more boosters in the puzzle game.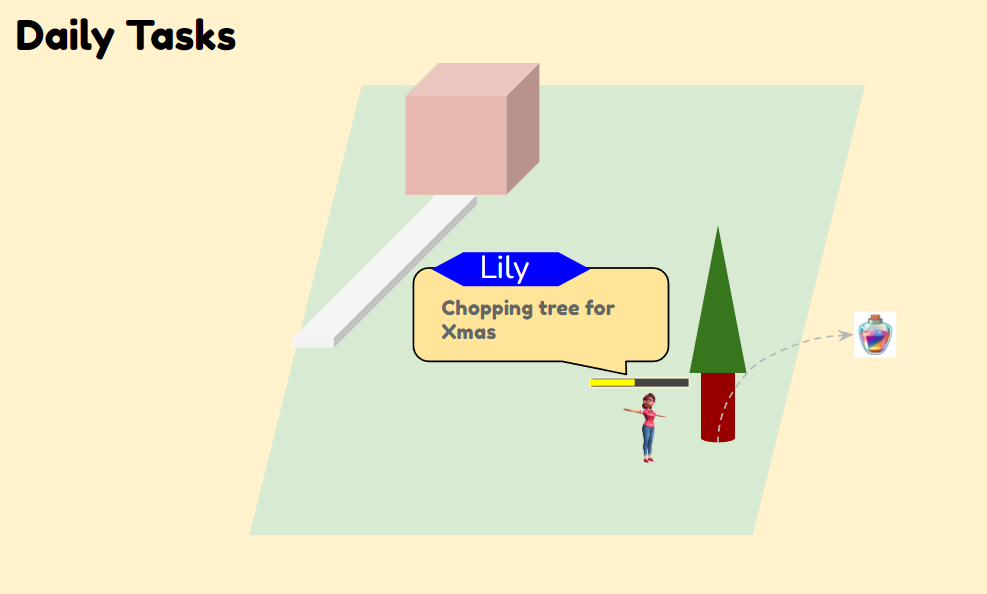 Start specific tasks by performing positive actions and get extra perks on completion. If the day ends, all the tasks are immediately completed.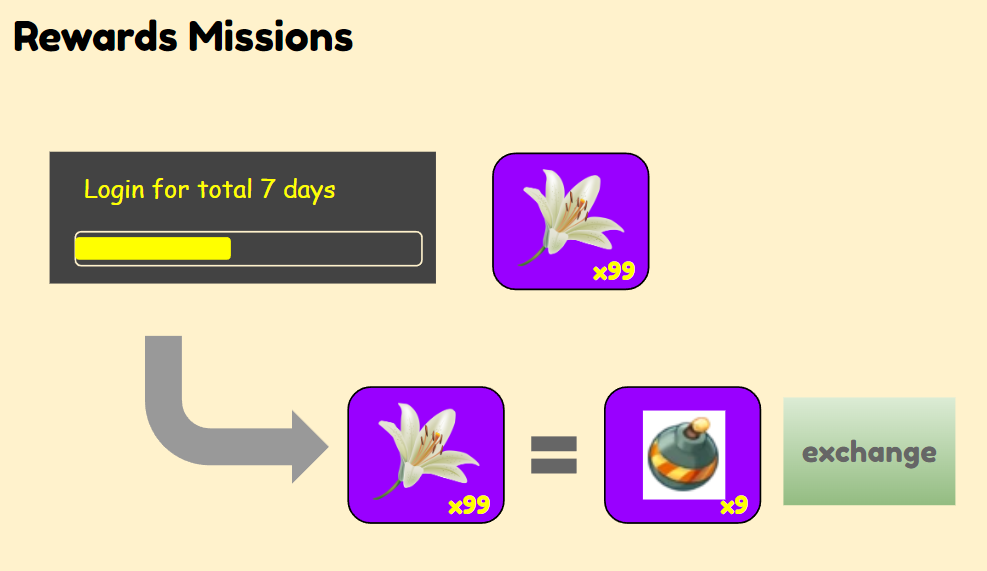 Achievement system for positive actions with special resource to collect and use for special choices during the story.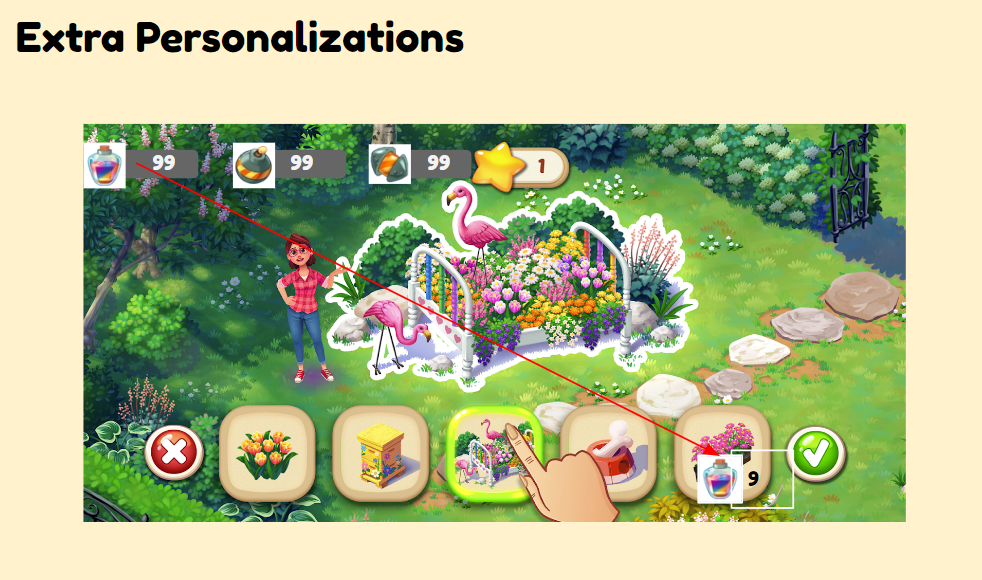 Obtain extra personalization options if you manage to perform a certain number of positive actions.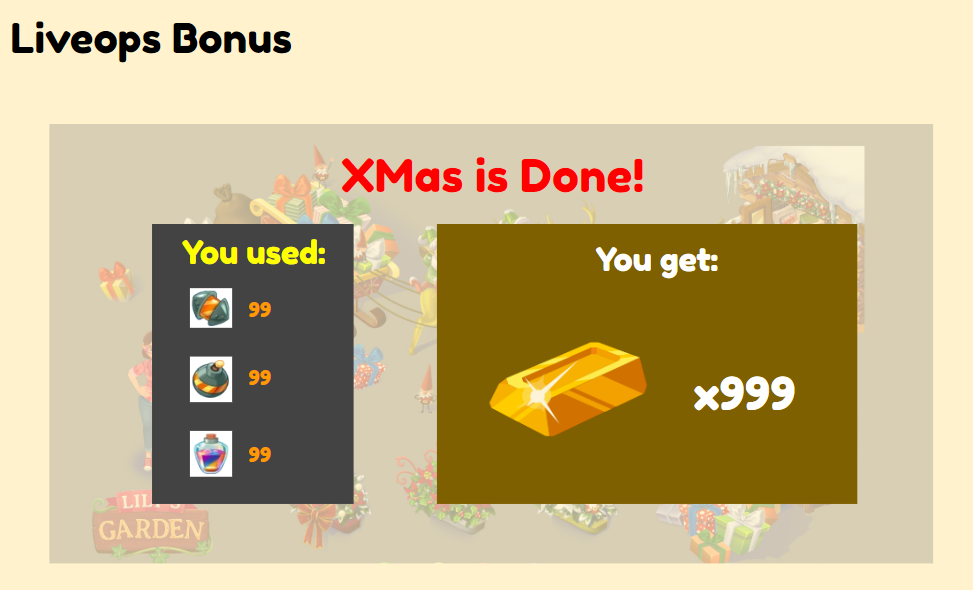 At the end of an event, recount all the positive actions done and give extra perks according to the milestone. Giving the premium currency can be extremely valuable for the Players, but it may influence the monetization.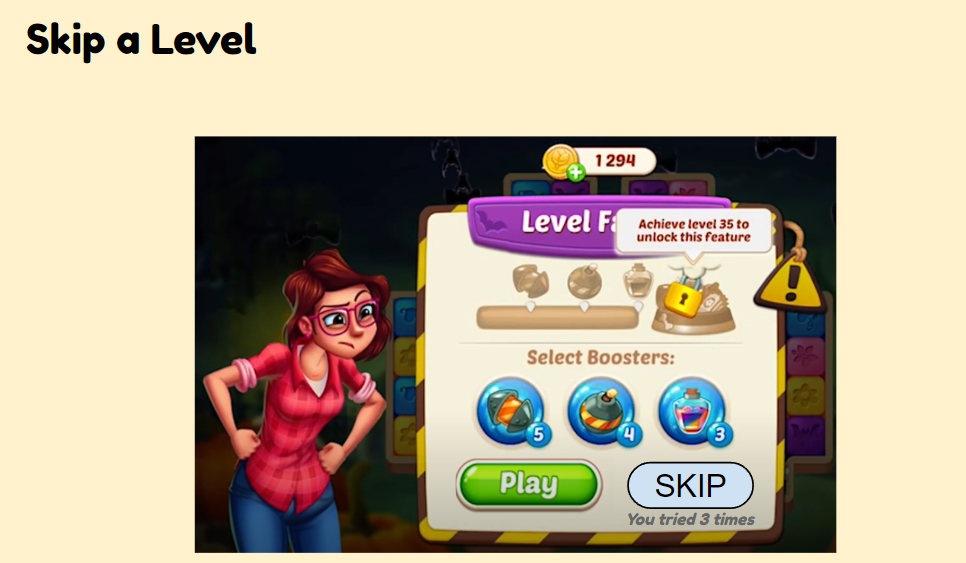 If the Player uses X boosters/power-ups/extra movements to beat a level and still loses, he is allowed to postpone that level for a while.
Conclusion
In a real context with a real team, all this process would be a workshop. Also, the study of top competitors is very important. This exercise is good to keep my mind fresh and to quickly play with narrative techniques I learnt in past weeks.