The thing I like the most about the hypercasual trend is that I really cannot deeply understand why all of this works. My professional mind has collected a lot of assumptions regarding game design theories. So that I am constantly challenged when I see millions of people playing silly games. Fascinating!
This weekend I tried out Merge Animals 3D that is performing well on mobile phones. The concept is pretty cool. The game is about trying out different combinations of animal traits on a runner and see how they do perform on the track. The main character is a human anonymous mannequin. He is competing against two mannekins more, also them with random configurations. The camera is top-right and impedes having a clear view of what is coming, so that some reflexes are needed to overcome obstacles. Then you unlock a new animal trait which will permit to overcome other kind of obstacles.
There are five kind of possible traits to dominate with an animal prothesis: strength, water, climb, fly and run. I haven't found much more. It is impossible to arrive the last, I have tried everything. If you don't end the race first no worries: you will still pass to the next levels! No lose condition at all.
The colors and textures are completely plain, that suggests that the game works with the part of our thinking system which looks for immediacy. No complex thoughts involved at all. Classic for the hypercasual games!
The game monetises with ads. I am afraid there is too few challenge right now. Maybe developers are trying out the core loop and then they will iterate on that.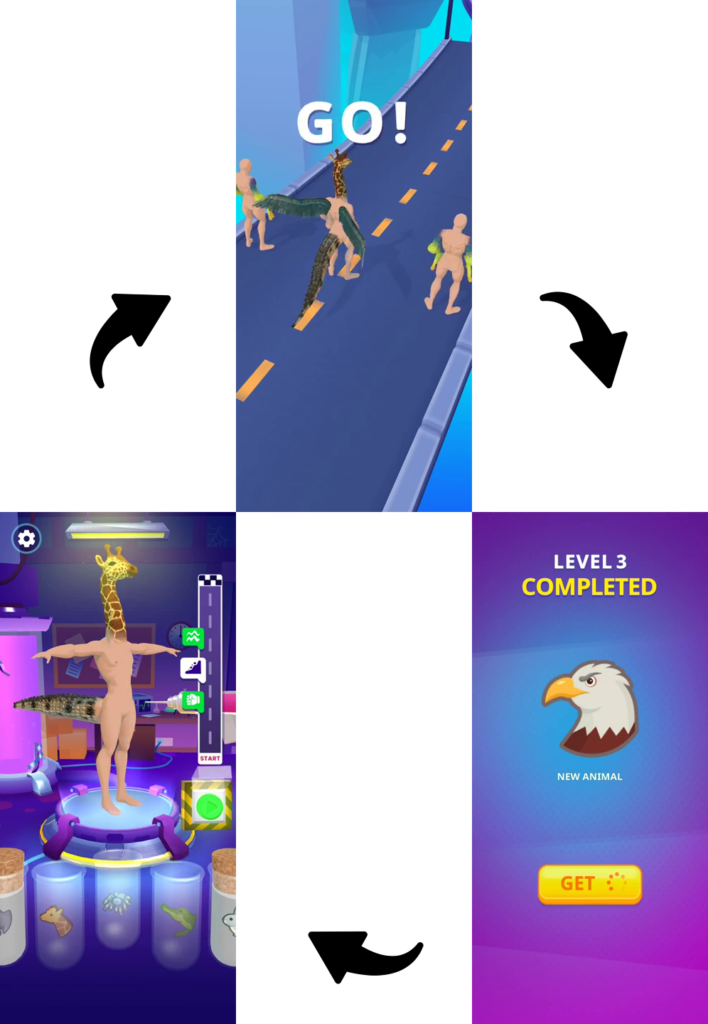 After a while I found pretty frustrating having to choose manually the mutations I wanted to face the next "challenge". A UX improvement would be in that sense.
There is nothing suggesting to the Player why is doing all of that. A narrative design improvement would probably include a level sequence or images unlock. You discovered a new animal trait? tell me something about that animal.
Levels have basically no challenge. In order to maintain that philosophy, a Level Design improvement would probably be including some bonus level where the Player could collect letters or other elements useful to unlock new mannequin skins, for instance.
The game system is super simple. For the System Design part I would probably try to find some idle mechanic for the levels. Leves are a rewarding moment and not a challenging one, as mentioned before. Probably the Players who stay more than 2 days would find fun having some automatic system where they can grind other elements related with experiments and merging.
You will find the brickfile on github, as usual.