This weekend I want to do an experiment, the first series of articles. This one is dedicated to one of my favorite games of all the times: Clash of Clans. The purpose of this post is to share my way of breaking down the tutorials of the games I play.
Being scrappy is OK
There is a simple process you can follow, it takes a work day more or less:
Play the game recording the session
Create the brickfile for the Tutorial
Use a spreadsheet to dissect everything
The result is something like this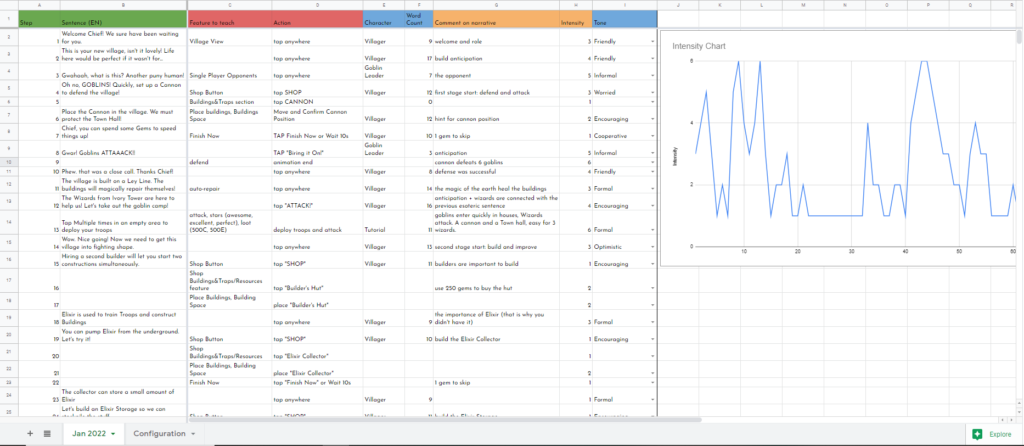 You can see the google sheet here and make your copy if you want.
The first two columns are the report of every dialogue step by step
Then I detail the feature (or mechanic) the game wants to teach every step and the action needed to pass to the next step
I take notes on narrative. The character speaking and the word count are important for the translation budget. The dimension of every script, in fact, depends directly on the number of characters speaking and the locations used. You can check out this masterclass on short stories.
Finally, I put my bias into commenting on the narrative, assigning an intensity score to every beat and focusing on the tone. For reference, I left the list of tones in a separate tab. The list is taken from this article.
Intensity score goes from 1 to 5, and:
Already seen, not exciting
New thing on screen, still not exciting
Interesting
Cool surprise
Thrill
It is just a personal valuation useful to me to see where I would like to improve the things!