Design games for the free-to-play mobile business is whale hunting. Unless you are a genious, like Bit Life developers, you will probably do the math. And doing the math, you will notice that you need high spenders to sustain your business.
Yesterday I saw this comment on a LinkedIn post: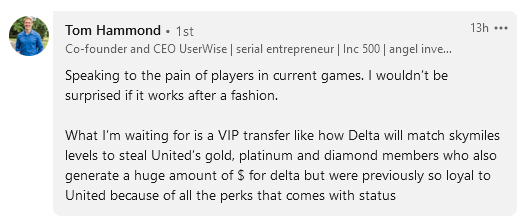 Shoutout to Tom Hammond for this great idea.
I checked out the original Delta program and now I cannot understand why nobody is doing that.
Scenario
Ana, a Slotomania player, is a Black Diamond level VIP client. She gets an ad from your Mobile Casino Game that promises her VIP level can be matched with a challenge.
Installs the game, logs in
A pop-up asks her if she already has VIP status in other games, she answers that she does and details that she is a Black Diamond in Slotomania
Within 12 hours, a person from Customer Support contacts Ana, asking for more information
Ana's VIP level is matched with the game's VIP level.
Why?
If someone has a high VIP level in another game, it is most likely a whale. It could be a whales acquisition strategy.