Years pass by and I still see and read a lot of articles and videos that suggest using Bartle's Taxonomy of Players for MUDs.
Richard Bartle was one of the designers and researchers around the online communities for MUDs, multi user dungeons. The very first version of MMOs.
He identified four different approaches of players of that time to the medium.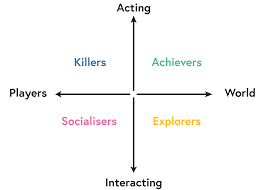 What I learnt from his work was that it is very interesting to haver your own taxonomy to create your player persona.
But, people still seem to use it to start thinking in the very first personas as if they were part of a '90s MUD. Players changed a lot. Your game is probably not a MMO. Using the same taxonomy for those cases will probably lead to mistakes.
It is true that it may be good to discuss with your team, but you are not doing the right job. Do this instead:
Create your personas
When your game is running, identify your player personas by interviewing players
Create your own taxonomy
Stop using Bartle's taxonomy, unless you are designing a MUD for telnet. You will most likely not have killers among your players!