Last week I saw a post from some LinkedIn influencer regarding a new liveops from King's Candy Crush Soda Saga.
When I read the description, I decided to study this feature. In fact, as you can see from the announcement on the game's official forum, the Soda Supreme feature proposal seems heavily based on monetization: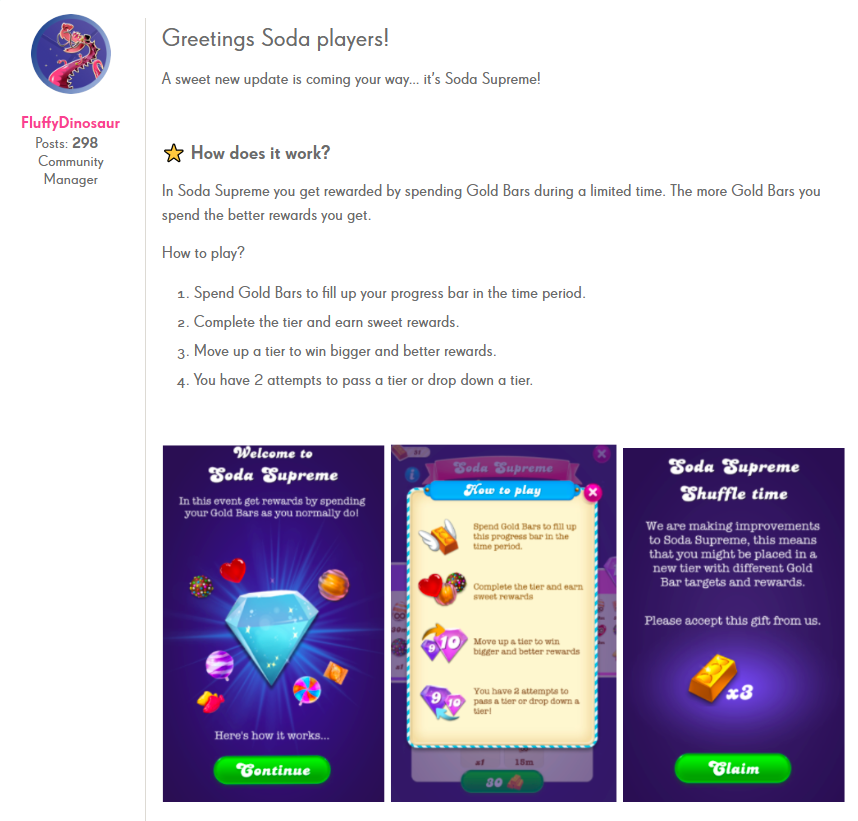 Comments to the feature seem to go into one main direction. Obviously the volumes of people playing these games are huge. The majority is silent and we do not know if it has given good or bad results. As a game designer, I just try to understand the vision behind this, willing to learn from the masters of free-to-play.

Then I downloaded the game again and tested the feature out:
Goals and KPIs
When the Player runs the app, after a second a new screen will appear: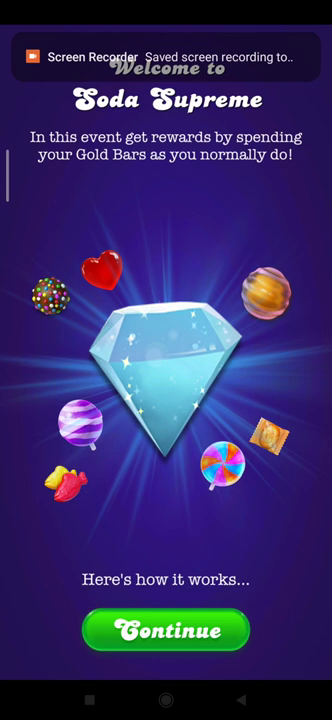 The pitch is quite clear: you get rewarded by spending gold bars. The fact that you are using the premium currency is reinforced by a new rewards layer.
Who is the real target of this feature? Payers: Players who use gold bars regurarly during their game sessions.
Probably, the team wants to improve the Gold Bars spending across the game. It will improve ARPDAU, average revenue per daily active user, since it is a time based feature.
Rewards are boosters, power-ups and lives: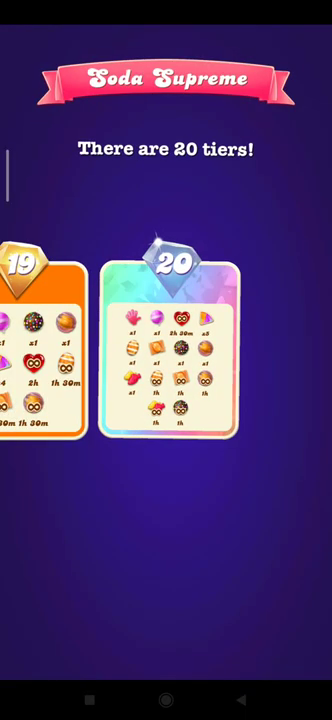 There are 20 tiers of rewards. The higher the tier, the better the rewards. Rewards help you beat new games, so that if you spend gold bars you'll probably beat more levels.
A secondary goal for the feature is probably to improve the engagement with the game. Engagement to me is: session length (minutes) and average sessions per day.
Feature Onboarding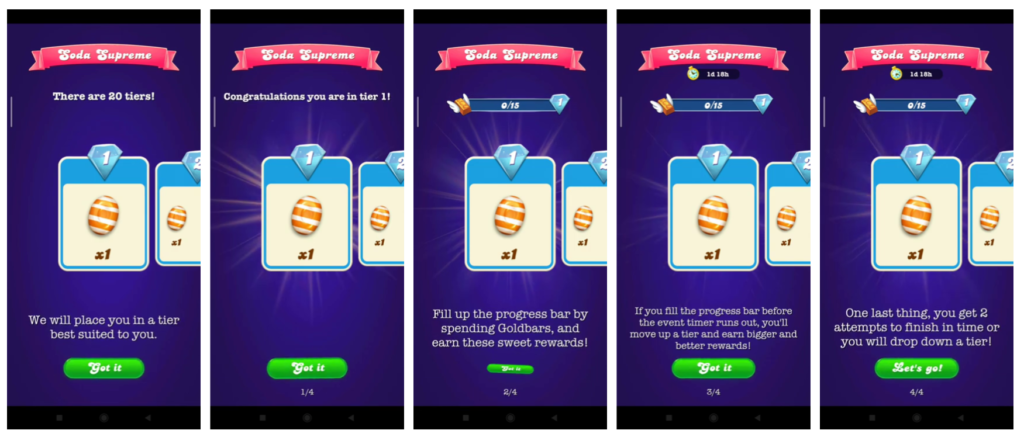 The game matches you with a tier, according to your spending rate (I suppose).
The promise is to earn 1 special tile booster. I can make that simply by playing!
I have 42 hours total to pass to the next tier, otherwise my bar will reset. So that they are definitely looking for more sessions per day and more trials.
I am not sure that is the best way to explain the feature. First of all, I would introduce it starting from the first time the Player spends and/or needs gold bar. Second, the first reward is something I can create by matching 4 tiles in vertical. It would be better having more succulent rewards on lower tiers to foster the will to continue purchasing gold bars also for Players who doesn't spend too much.
How will I improve this feature?
Candy Crush Soda Saga is an arcade version of the classic Candy Crush Saga. The levels are more blasty and also the challenge is designed for quick results (successes or failures). It's fast, it's for the younger cohorts of CCS Players and it has many game modes. The Player has always something to do.
Match-3 games monetize by removing pain points and by adding an interesting layer of strategy. A large part of the Players pay to be able to pass a level in which they are stuck.
Pain Point: You have run out of movements, but if you buy 5 more you can beat this!
Strategy: You may want to buy a booster to free up some areas on a complicated board.
In Candy Crush Soda Saga gold bars can be bought or won in certain situations. They are a soft currency, so that they are subject to inflation. Which is part of the reason why is very hard to scale those games.
The true potential of Soda Supreme
It would be great to adapt this feature to a ticket system for special levels. You spend gold bars and you earn tiers of special set of levels which give you extra rewards. That would be more meaningful and would probably create a better impact on the game's community!
Anyway I found this feature really interesting, because it has the courage of taking the monetization directly! We should never forget, anyway, that rewards are great to reinforce successes. They works better as surprises and as the result of a concrete demonstration of skills from the Players. Spending gold bars can give access to new pieces of content, instead, and that would be way more meaningful in my humble opinion!