The onion model is the base that I use to think in any prototype of a new video game. I discovered it in a video years ago and I have never stopped to use it. I have never found that video again, sorry about that.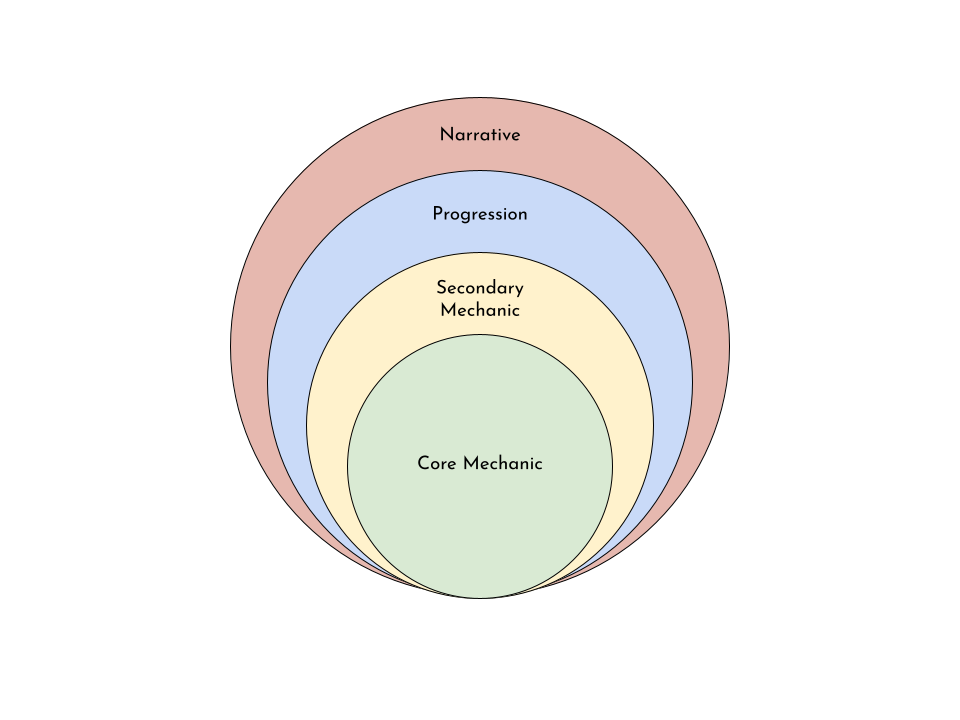 This onion model is made to be started from both sides. It works better to start from the narrative side and go toward the center. We have already a lot of core mechanics that are proven to work. Fire, match-3, gamble, merge, harvest, etc.
Which kind of feelings do you want your Players to have?
First question: which kind of experience do we want to give the Players? What are the feelings we want for our Players?
The answer can be pretty vague: "just a relaxing and quick experience."
Or it can be detailed: "I want my Players to feel they are managing a video games company with its budget and people."
Usually, this model works better with the second kind of answers. Try to spend the right amount of time in this part.
Then I try to identify the personas. Do not forget to use OCEAN!
I facilitate a session with all the team, in which we decide the kind of narrative we want to deliver. Content has a high cost, so that you may want to start from here believe me. It is good from the very beginning to start estimating its dimension.
Once we have the narrative, it's time to pass to the progression part. Example:
Narrative: "You are a space traveler. You have to stop the evil Empire from oppressing the universe."
Progression: "explore the universe, complete missions and quests."
Do you really want to start with an open world game?
Progression: "beat the levels and defeat the bosses"
Ok, that seems better! Will the bosses have special behaviors?
Progression: "try to reach the best score and climb the leaderboard"
It's Social, I like it. Is the leaderboard for real? NEVER do a real leaderboard for a prototype!
Only later think in the mechanics!
The secondary mechanic is related with the meta part of the game. Think of your Players when they are NOT playing your game. Which things do they think in when they have the intention to play your game again?
"I have to enter because I have to collect my boosters" (Candy Crush Saga). Boosters are your secondary mechanic.
"I need to play again because they are attacking my base" (Clash of Clans). Raids are your secondary mechanic.
"I need to play again because I have to beat the Royal Griffin" (The Witcher 3). Spells or Crossbow are your secondary mechanic.
Now you have it! The core mechanic, I am sure, will come alone!
No? Really? Do you want to create a new one? OK.
Forget about all that we said and make a prototype including ONLY the core mechanic.
Iterate on that until you have it.
Playtest a lot, put your core mechanic really in crisis.
Then, and only then, you may want to add all the rest. My suggestion is trying to be really conservative on the other parts if you want to avoid headaches.