Marketing people are often not part of your immediate team. They are external stakeholders, people less involved in the day-to-day of your job. Their role is critical for the success of the game. In fact, you can make the best game but a lot of people around the World is making the best game right now. Marketing can drive the success or failure of the whole game.
Pyramid of Modern Marketing
The other day I was reading a blog post on modern marketing by Seth Godin.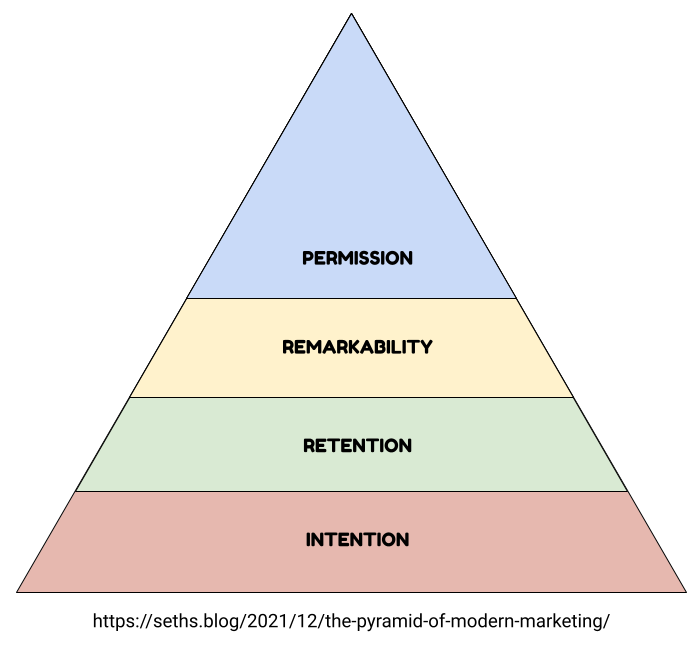 Intention is the most important layer. Is about the changes that you are seeking to make with your game. What are your unique selling points? Game designers help in aligning visions and prioritize resources. You may start from your competitors and your Personas and help define every iteration.
Retention is the second grade. Getting new players costs money and if your players are happy with your game they can bring others. Mouth to mouth is still the most impactful spreading medium out there.
Remarkability (conversations that happen as the result of your work) and Permission (the privilege of delivering anticipated, personal and relevant messages to the people) are part of core marketing activities. You can observe them, but it's their job not yours.
Working with the marketing team
The marketing team usually does the job alone. Best realities I have worked for have regular meetings with them. Game designers can help with the brand, the voice and the tone consistency. We can help with intention and retention.
In case of f2p a company has to run massive creative campaigns (mostly on Facebook and Google) game designers can be of great help in developing creative concepts. From creative concepts, marketing team is capable of develop multiple variants. The big user acquisition machine is constantly fed up with those creative variants. As you can imagine, your role at the top of this funnel is critical.
Intention:
Help to sketch creative concepts that match the game's brand
Maintain and use content guidelines for those
Retention:
Make sure that the feature of your game set your players for success
Get information about the strength of signal of the monetization events. Those events are sent to ad platforms as postbacks to optimize user acquisition campaigns. Put the strongest ones near of the start of the experience!