These days a protest is taking place on the ArtStation platform. Seeing some works generated with AI climb to the top positions, artists are uploading this pic everywhere.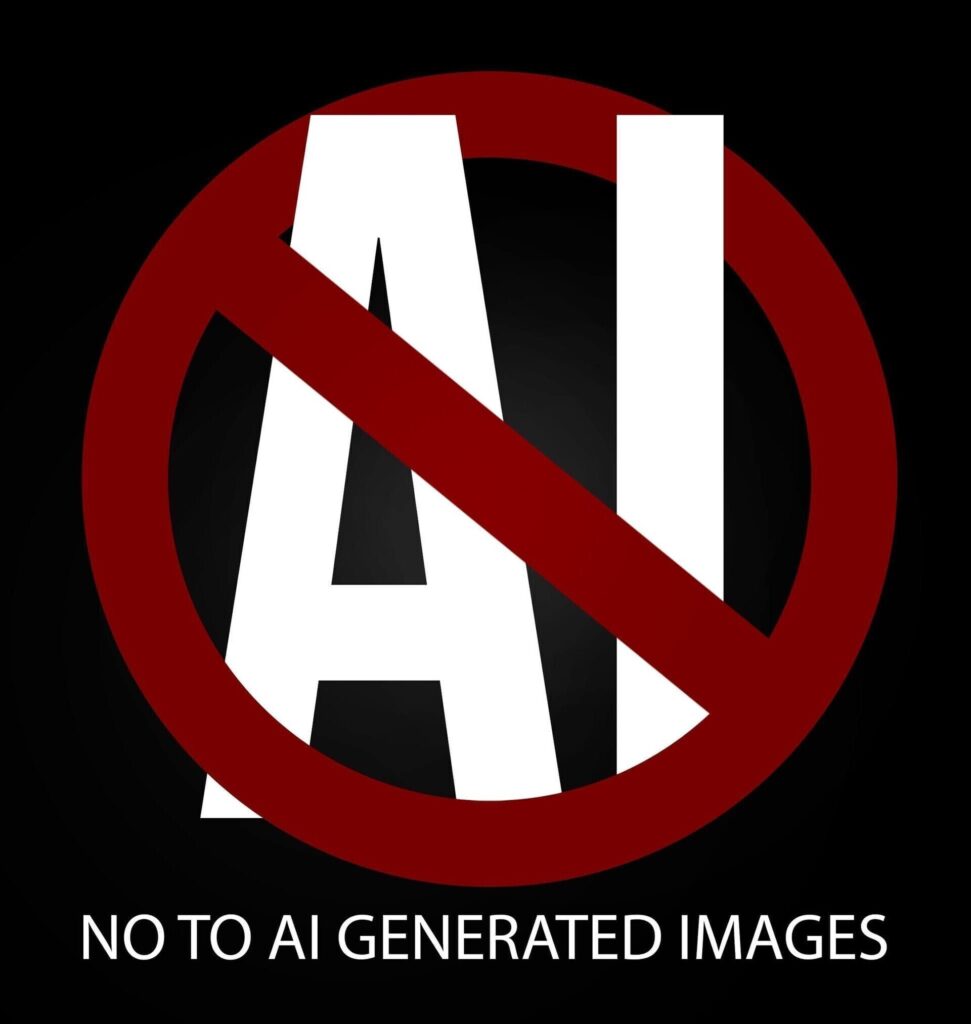 I find that a very sensible and clever idea. I think artists are in a moment where they have to defend themselves. I want to dedicate this post also to confirm the fact that they are right. Artificial intelligence-generated works are not art.
Art is a human matter
To compose a work of art you need specific materials that are able to formalize forms. In this sense, artificial intelligence has things in common with human work. AI works on materials, in the case of digital art digital materials. But art to be art must be a physical expression of the human imagination. Artificial intelligence algorithms do not imagine. They realize a vision based on the algorithmic processing of a prompt.
If I want to create an image of my mother, I can imagine many things. I can think at any given moment that I want to put a particular pin or a special kind of tree behind her. If an algorithm has to imagine anything, it relies solely on a semantic decomposition of a sentence. The algorithm having no imagination does not add anything that is not within its analysis.
Art is a process
If human beings were able to realize what he has in mind without going through sharpening the points of the pencils and without tracing everything, they would not be human beings. They would be a deity. It would not be art, it would be a divine creation. Art requires a process. Artists are able to deal with this process. We are perfectly capable of recognizing art created with artificial intelligence. The fact that there is a market is due to the fact that creations are human. There will never be a big market made up of works generated with artificial intelligence.
In the case of video games, obviously artificial intelligence can be used to create variants of elements already created by human beings, to optimize processes. I find this interesting. Anyway, it is foolish to think of entrusting the creation of a product solely to machines. It will never be an artistically valid product.
Art starts with aesthetics
Aesthetics is the science that studies the essence of things. Art therefore also includes science (and this thing does not happen the other way around). This study is an activity that requires a lot of mental energy and all the CPUs on earth would not be enough to realize what the brain of one toddler is capable of. Studying the essence of things means imagining, forming a point of view, and expressing it with theories. Turn these theories into a thesis. It is a very difficult process even for us. How many good artists do you know? Few. These few artists are people who have succeeded in this mission: to study the essence of things. Have an aesthetic sense.
Artificial intelligence applies an algorithm to a context. This algorithm operates in a pre-determined way on each challenge it faces. The algorithm evolves and improves, of course, but it doesn't imagine. It does not create theories, it does not seek theses. It does not reflect the aesthetics of things. It does not seek its essence.
AI art is not art.